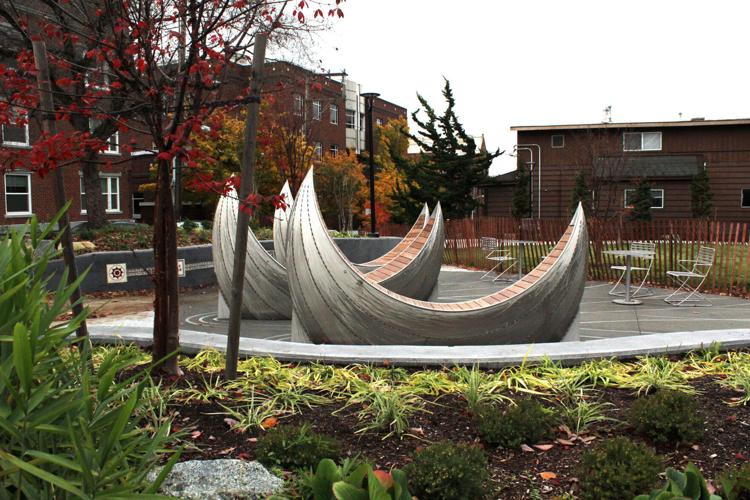 With the recently completed renovations at Christie Park, one of the U-District's small outdoor oases has received a facelift in the hopes of creating a more functional space for building community.
Christie Park, located on the corner of Northeast 43rd Street and 9th Avenue Northeast, has recently reopened following a two-year renovation project undertaken by Seattle Parks and Recreation. The renovations feature, according to the Seattle Parks website, an expansion to the park, open lawns, picnic tables, exercise equipment, and an art installation titled "Explorer Voyage" created by Paul Sorey and donated by the Friends of Christie Park (formed by the Taiwanese American community in Greater Seattle).
"Explorer Voyage" features three stainless steel Taiwanese tatara boats that also serve as benches, surrounded by waves and the word "explore" written in several languages. The installation is both functional and symbolic, meant to represent themes of exploration and community in the U-District and beyond.
The Taiwanese tatara boats partly honor Seattle's relationship with its sister city Kaohsiung, Taiwan, one of 20 cities participating in the Seattle Sister City Program.
"The goal is to establish an understanding of cultural exchange and a friendship between the two cities," the president of the Seattle Kaohsiung Sister City Association, Shiao-Yen Wu, said. According to Wu, the sister city program also promotes building friendships and community through events like cooking classes, dragon boat racing competitions, and diplomatic visits.
The "Explorer Voyage" art installation draws inspiration from the park's namesake and its location in the U-District.
"The explorer idea also envelops James Christie, the park's namesake," Christie Park addition project manager Katie Bang said. "He was sort of somebody who was an explorer, and an advocate for the Native community that was here."
Bang added that inspiration was also drawn from the UW's history of rowing and the park's location within a community primarily occupied by college students.
"The community around [the park] is very much in an explorative mode in their lives, trying to figure out who they are and where they want to go," Bang said.
Other park renovations were heavily influenced by input from the surrounding community, primarily collected through three public meetings held throughout the design process, which began in 2018. The community cited adequate lighting, seating, open spaces, and art as some of the key improvements they envisioned for the park.
UW student and U-District resident Luke Samuels agrees with the community's preferences for park amenities, particularly the importance of public art.
"Art, I think, is super important to have in parks and super important to have in the community," Samuels said. "It really helps give life to a community."
The park's renovations are currently complete, aside from adding lights within the boats of the "Explorer Village" installation, which would illuminate the art from the inside and serve as an additional light source for the park at night, according to Bang.
"We really are excited to open a park during a pandemic, and we are really looking for these bright spots in our community," Bang said. "We encourage, obviously not large groups, but folks to come and enjoy the park."
Source from http://www.dailyuw.com/
Posted in 12/2020
---
Christie Park and 蘭嶼拼船
My name is 劉真真 (Clara Chen). I grew up in Tainan, Taiwan.
I graduated from Taiwan University in 1959 with a B. S. degree in Physics.
Then I attended Indian university and University of Wisconsin. After received my degrees, I moved to Seattle in 1980, and worked at Boeing until retirement.
While living and working in Seattle, I fall in love with this area and started investing in real estate. I notice a need for park and recreation facilities in the University of Washington area, especially for foreign students and scholars who are away from their home. They need a place to remember their home town and enjoy friendship with other people of different cultures.
One of my rental properties happened to be next to Christie Park, at the corner of 9th Ave. and NE 43rd Street. It is only a few blocks from University of Washington.
One day in 2012, l received a call from a city official saying that the city wanted to buy my house to expand the park. I reluctantly agreed to sell at the beginning. Until city agreed to my request of putting an art work linking to Taiwan in the park. It should be subject to city's approval, of course. All expenses will be paid by me. The agreement was finally reached.
I shared my idea with many friends. They were very excited. We start brainstorming immediately. Many famous architects and artists provided valuable ideas. We even looked into possibilities of bring artists from Taiwan or build in Taiwan and ship over the artwork.
We formed a group called "friends of Christie Park", elect a president, two treasurers, a public relations manager, hire a secretary. We have many meetings. After two years of planning we decided to build it locally.
Meanwhile we found U District Fundation, a non profit organization, was willing to be our sponsor. We found out that Boeing and Microsoft were able to match donations from their employees and retirees.
After many discussion/meetings between Seattle City Park and our group, we have decided on Tatalas Boat from Orchid Island (蘭嶼拼船). Tatalas boat symbolizes exploration spirit of Taiwan's tribal people and culture of Taiwan. Tatalas boat also resonates rowing culture of University of Washington. We anticipate the art work will bring in curiosity and interests from visitors and, at the same time, a valuable marketing and promotional tool for different culture and ethnic groups.
We hired a local artist, Paul Sorey, who is well experienced and respected in the design and installation of art works for parks.
I personally pledged $50,000 for the art project. Meanwhile we have received several thousands dollars from donors all over the globe. The U District Fundation has all the records.
Representatives from Tatalas/Tau tribe promised to come for opening celebration in July, 2021 if the traveling band is lifted. It will be a great gift for them to have their culture recognized by the friendly city of Seattle.
– – Formosa, the beautiful island, as the name of the park
Source from 劉真真  (Clara Chen)
Posted in 12/2020